Beginning Feb. 5th, masks will be optional
UNITED CHURCH OF THE VALLEY
OUR MISSION
There's a fresh wind blowing in the Murrieta/Temecula Valley. It is the wind of openness and inclusiveness, the fresh breeze of a community built upon an affirmation approach to life which respects the customs and integrity of all persons. This fresh wind is called United Church of the Valley. This church comes from a tradition of calling and gathering God's people to respond to the world with new eyes and new hearts. It is a church of vision and involvement. We unashamedly work hand in hand with our God to dismantle the fences which have been erected between people. We follow God's vision of a just world where all will live peacefully, growing in their concern for each other.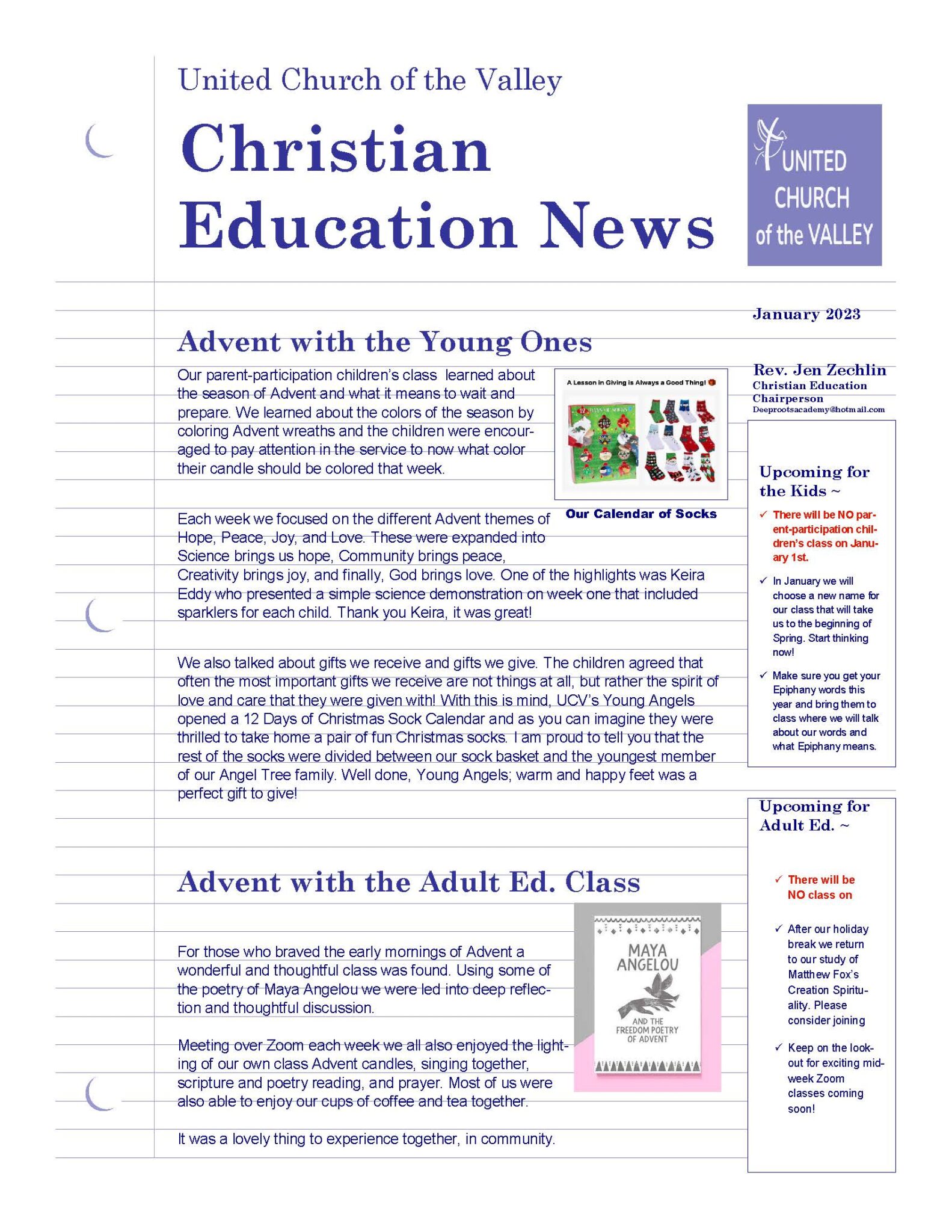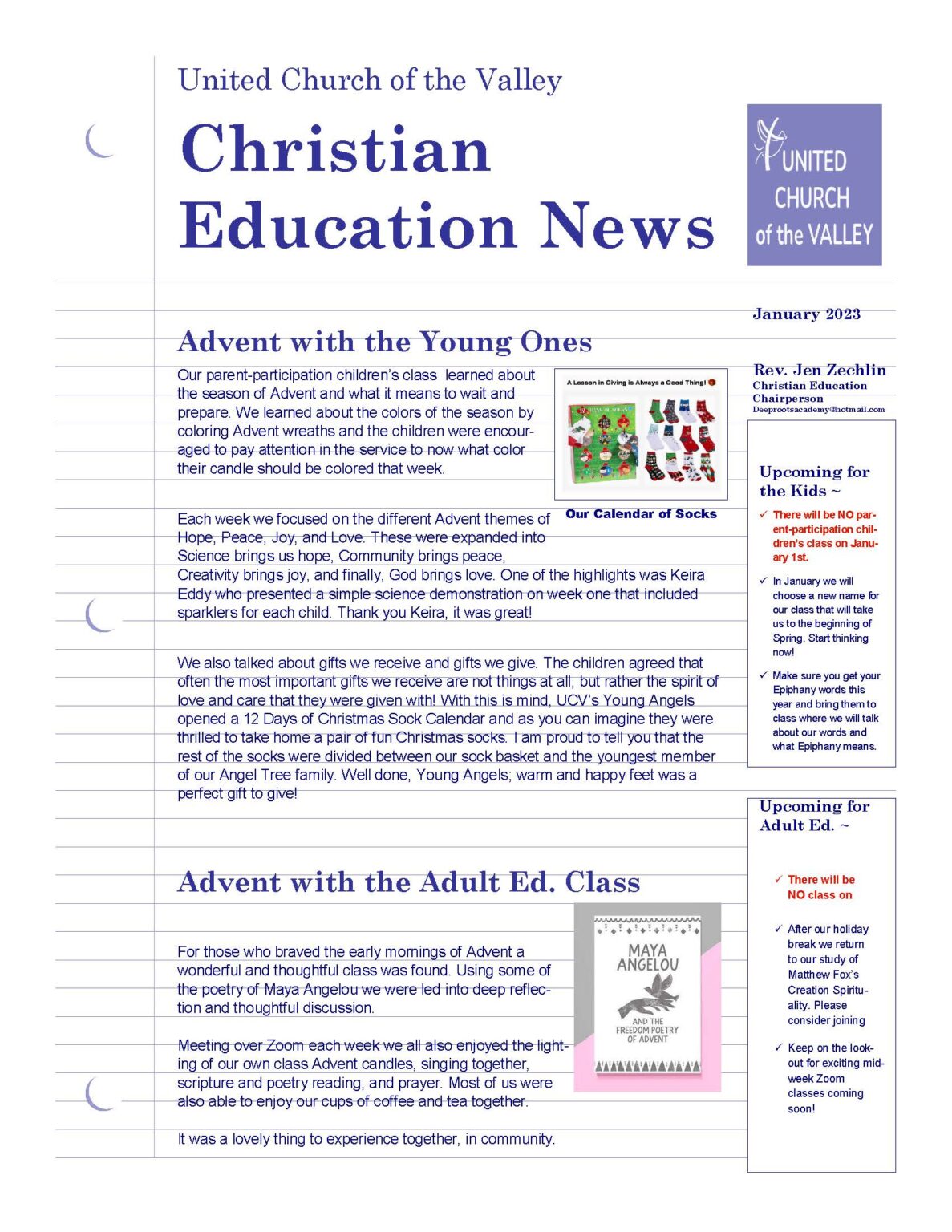 What Does "All Are Welcome" Really Mean?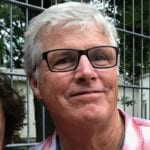 I have been in discussion over the past week or so with many friends from our little church about the word "welcome." What do we mean as a church when we say, "All Are Welcome?" It's a good question because I imagine most churches say, "All Are Welcome," and they mean it, but I think it might mean different things to different congregations. In our congregation I think the meaning is found in our public covenant of "Open and Affirming (ONA)." This is a designation that we voted on many years ago and re-confirmed just last Sunday. On the UCC website ONA is defined this way:
"Open and Affirming (ONA) is the United Church of Christ's (UCC) designation for congregations, campus ministries, and other bodies in the UCC which make a public covenant of welcome into their full life and ministry to persons of all sexual orientations, gender identities, and gender expressions."
In another article on the UCC website I found this statement which further clarified for me what our welcome means.
'All Are Welcome' isn't enough
"Lesbian, gay, bisexual and transgender (LGBT) people of faith often experience emotional and spiritual injury in churches that condemn their capacity to love and seek love. Because they've learned that "All Are Welcome" usually doesn't apply to them, they can't assume that any church will be safe for them and their families."
After the many conversations I've had with friends throughout this week and especially after hearing Stephanie's sermon last Sunday, this statement reads loud and clear to me. Interestingly, I (a straight, middle-class, white guy) also feel welcome by our ONA statement. This is a community I want to be part of. This is where I want to be.
When we invite people to participate in our church we should lead with this welcome. We should clarify what we mean by "All Are Welcome." This way, we are welcoming them honestly and genuinely while also preserving our community as a place where people who are otherwise marginalized know they have a home.
*Taken from Jamie Barnett's article in Moderator Monday
At United Church of the Valley we don't utilize a full time minister, but rather a rotating group of ministers who are creative thinkers. During the course of a month you might see the Rev. Sharon Graff, Rev. Stephanie Toon, Lee Eddy, Sandy Selby or Darcie Dunlop behind the pulpit. We enjoy a different approach as seen through a different pair of eyes each week. Not only does it keep us on our toes, but it keeps our minds fresh and open to new ideas and a new way of seeing that, which we have looked at the same way for years.
March 26th - Rev. Stephanie Toon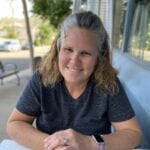 Stephanie was a United Methodist minister for 18 years serving churches in Dallas, Costa Mesa, Orange and Murrieta. Her passion in ministry is social justice. She has gone on over 30 mission trips in her life. Her current ministry is teaching history at a Title 1 high school in Perris. She's married to Adriana and has two kids; Lily (7) and Lincoln (4 months). Her current hobby is napping since she hasn't slept through the night in 4 months.
Does Anyone Else Need Rest?
This week we are considering health. And here's what I know, rest is necessary to health. I ask my students every Monday how their weekend was and they always ask me back. Each Monday, I announce how many naps I got over the weekend which usually means what kind of weekend we had. Adriana and I are not looking forward to the days that Lincoln stops napping
Join me Sunday as we continue this Lenten journey and reflect on health, healing and where rest plays into both.
See you Sunday,
Rev. Steph
A new service is available every Sunday morning
UCV is a family friendly congregation! Children remain in service with parents and often participate in some way. There are quiet activities available near the entrance for children to use in the sanctuary as well as a quiet room where parents can take small children if they desire -  all while still being able to hear the service. Please know that we love to hear the voices of our youngest members and so there is never any pressure to remove them from the service.
After a short break (Usually 5 to 10 minutes) we offer a parent participation children's class. We meet in the classroom for a short lesson in alignment with our progressive and inclusive values and a variety of activities like crafts, games, stories, music, etc. Parents must accompany and be responsible for their own children but don't worry, parents end up having as much fun as the young one!
For more detailed information on our Children's Ministry click on the button below.